Would you like to hire Barcelona Activa's auditorium or another of our available venues?
We at Barcelona Activa offer you an opportunity to hire its Central Headquarters' auditorium as well as other rooms and spaces in our facilities.
Check out the regulations for using the spaces and make your request to hire one.
Regulations for using the spaces
Regulations for using the spaces
Request the rental - Contact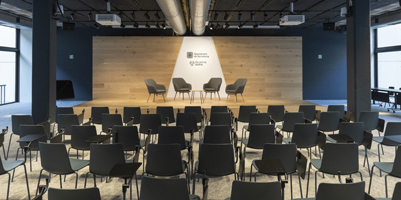 Parc Tecnològic Auditorium
Most of the Parc Tecnològic's companies are concentrated in the north of Barcelona, with a community of 50 technological companies.
The auditorium has an area of 500 m² and seating capacity for 150 people. Boasting an exit to a garden courtyard, the venue is located in a business-innovation environment.
We also have a reliability monitor and transmission equipment available.
Capacity:150
Audio:Microphones: 4 desktop and 1 hand-held
Video:2 projectors and 2 screens
Simultaneous translation: One booth
Internet connection:WIFI
Furniture:Lectern, tables and chairs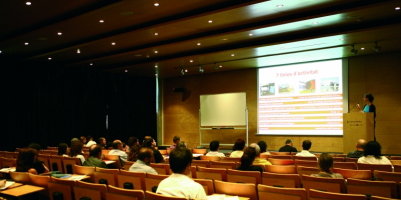 Barcelona Activa Central Headquarters Auditorium
The street-level lateral curtains can be moved, revealing the fully glass walls which look out onto landscaped spaces, such as Plaça dels Emprenedors, which can be used for networking and catering.
A noble space ideal for holding day events and conferences.
Address:c/ Llacuna, 162-164
Capacity:172
Audio:Microphones: 3 desktop and 2 hand-held and 2 headset
Video:Projector and screen
Simultaneous translation: 2 booths
Internet connection:WIFI
Furniture:Lectern, tables and chairs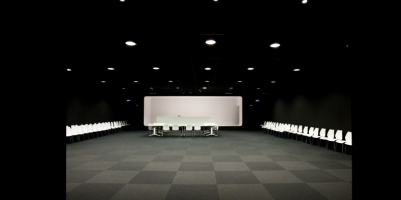 Cibernàrium conference room
Located in the heart of the 22@ district, the MediaTIC building was designed as an innovation feature in the digital era.
Located on the first floor of the MediaTIC Building, the Cibernàrium conference room has a modern, flexible design and is ideal for hosting events relating to new technologies and innovation.
The conference room is surrounded by communal spaces adapted for interactive or catering activities which can also be hired.
Capacity:180
Audio:Microphones: 5 desktop and 2 hand-held and 2 headset
Video:2 projectors and screen
Simultaneous translation: One booth
Internet connection:WIFI
Furniture:Lectern, tables and chairs