null
Four businesses linked to Barcelona Activa are the talk of the town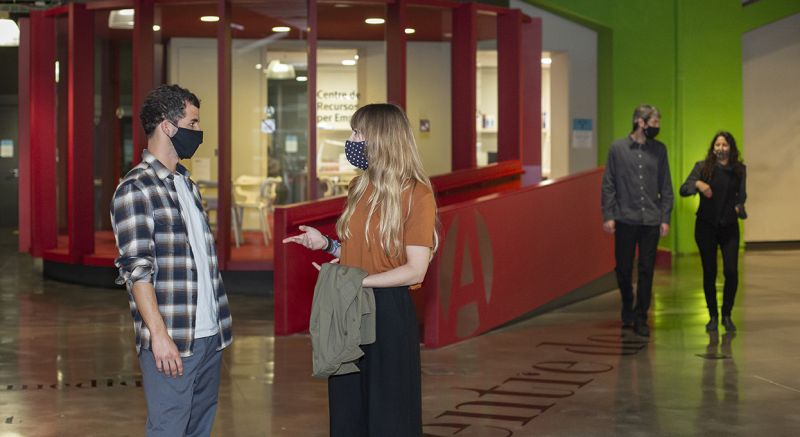 Four businesses linked to Barcelona Activa are the talk of the town
The start-ups Voilà, Holded, Aflorithmic and Senior Domo grow and consolidate their business models, adapting themselves and confronting new challenges
Barcelona, 10 Feb 2021
Barcelona's start-up ecosystem continues generating new activities, synergies and projects in the city, despite the complicated pandemic situation. In the case of four businesses which have received the support of Barcelona Activa to boost their projects: Voilà has received the Innofood award for the creation of a project which encourages the disuse of plastic cutlery; Holded, which was housed in the Glòries Incubator, is now entering the European market; British start-up Aflorithmic makes its mark in Barcelona with Barcelona Landing Services and Senior Domo has entered the Almogàvers Incubator in order to develop their new mobile app.
VOILÀ
The start-up Voilà has won first prize from Barcelona Activa and Mercabarna's Innofood programme; awarded 12,000 euros for having created edible cutlery made from cereal to replace plastic cutlery. A project which not only has as an objective to respect the environment, but also to guarantee a new gastronomic experience.
HOLDED
Holded, the start-up which helps small companies to go digital through its ERP (Enterprise Resource Planning) software and which was housed in the Glòries Incubator, has just closed a round of funding of 15 million euros. Its operations led by European investor Elaia, whose headquarters are in France, which along with other partners have trusted in the potential of Holded to enter into the European market and accelerate the sector's digitalisation.
AFLORITHMIC
British business Aflorithmic has arrived in Barcelona - upon its arrival to the Catalan capital, Barcelona Activa has assisted the business via the Barcelona Landing Services service. The technological company, whose headquarters are in London. has established its product development centre and its European head office in Barcelona. The Audio-As-A-Service start-up received 1.1 million euros in funding this February.
SENIOR DOMO
Senior Domo, the mobile app which offers a 24-hour remote assistance-at-home service for the ageing population, has checked in at the Almogàvers Incubator via the UOC (Open University of Catalonia). Senior Domo provides a daily follow-up for the elderly and, in case of emergency, immediate notifications to family members through an alarm on the phone.
Barcelona Activa offers services for business-people and entrepreneurs, as well as incubation spaces to keep the city's business and entrepreneurial system active. For more information about the resources and programmes within reach for citizens, click here for the list of active programmes in 2021.