null
The 'Barcelona never stops' webinars are now available to watch online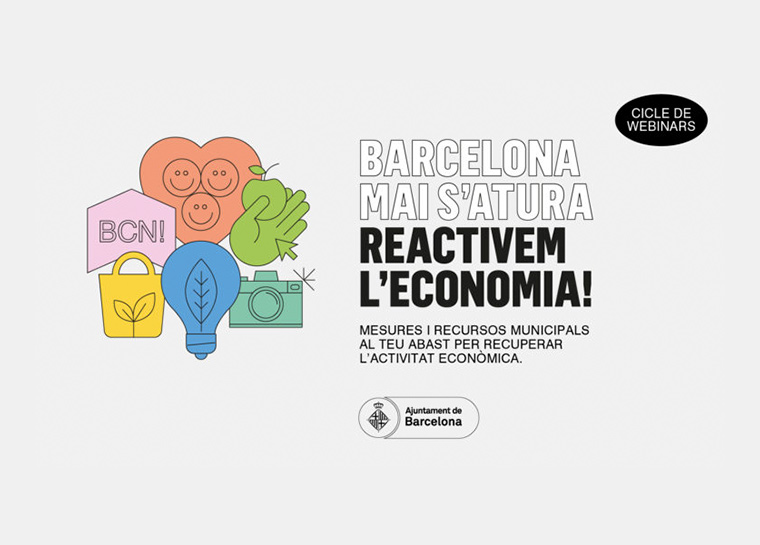 The 'Barcelona never stops' webinars are now available to watch online
The webinars are inspired by the 55 measures for the economic reactivation of Barcelona
Barcelona, 14 Nov 2020
These past weeks a series of webinars have been broadcasted via streaming to spread the word about the actions and measures that the Barcelona City Council are taking for the regeneration of the economic and social fabric, and the economic recovery pace of the city.
The webinars, inspired by 55 measures for economic reactivation, took place with the participation of experts and municipal leaders, who gave a walkthrough on the tools available.
Barcelona Activa has participated in the following sessions as the main active agent:
"The social and solidarity economy never stops: How are we helping the SSE?"
A session to explain how the SSE sector and public policy to boost SSE is responding to the socio-economic crisis, with already consolidated initiatives such as 'Impulsem el que fas' or 'Camí de la Solidesa'.
"Barcelona's self-employed professionals never stop"
In this webinar, the area of City Promotion explains the municipal measures directed at the international community's autonomous professionals who live and work in Barcelona.
"Barcelona's economy never stops"
In this webinar, Barcelona Activa explains actions such as the government measure for talent, the recruitment subsidies Crea Feina, access to microcredits with B·Crèdits and the programmes like Lidera which are centred around gender, as well as the different programmes and services Barcelona Activa offers, which those in the entrepreneurial and business fields have access to.
"Barcelona's employment never stops"
Session to get to know which municipal actions are being taken to generate quality employment. In the Action Plan, the fight against youth unemployment has been highlighted, as well as in the different programmes and services of Barcelona Activa, which all citizens have access to, in the case of training requirements to improve professional capabilities and find a job in emerging sectors.
The complete webinars on video can be watched online on this link.