null
Barcelona Activa is organising a summer full of activities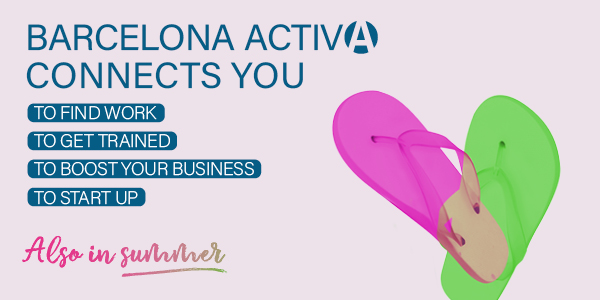 Barcelona Activa is organising a summer full of activities
The agency does not stop during the summer months and offers a wide range of training and workshops related to technology training, entrepreneurship and job search
Barcelona, 14 Jul 2022
Barcelona Activa does not stop in the summer either. The agency maintains the offer of activities to start up, promote a business, train or find work during the months of July and August. For this reason, training and workshops will be made available to the public for people looking for new job opportunities and who also want to start up. Citizens will also be able to participate in technological training courses included in the programme e-StiuTIC.
The e-StiuTIC 2022 begins
As every year, the Cibernàrium de Barcelona Activa is launching the e-Stiu TIC, a programme with a wide range of summer courses that provide skills on the latest in technology. The aim of the initiative is to offerde up-to-date training and knowledge of technological tools.
The e-Stiu TIC includes more than 30 activities and many are dedicated to providing tools, solutions and technological knowledge to professionals in the world of education. In fact, a dozen courses are recognised by the Department of Education of the Generalitat. Beyond the field of education, there are also introductory activities in web programming, Artificial Intelligence, Fake News and Low Code. You can consult the courses of e-StiuTIC and find more information at this link.
An agenda full of possibilities for starting up or looking for work
Barcelona Activa also offers onsite and online training activities for entrepreneurs in the process of starting up. During the summer, workshops and courses can be taken to receive support in the creation, validation and growth of the business. If you are interested in the training offer related to entrepreneurship, you can consult it by clicking on this link.
If you are in the process of looking for a job or improving your professional career, you can also take advantage of the summer to get trained. You can carry out online activities about professional guidance and change and also training on emerging and strategic sectors, such as natural cosmetics or renewable energies, to get updated and adapt yourself to the labour market.
If you want to boost your company or strengthen your social and solidarity economy project, you can also participate in business finance and talent management activities and prototyping and innovation. Depending on your individual interests and needs, you can consult and choose the one that suits you best at this link.