null
Barcelona Activa estrena nou web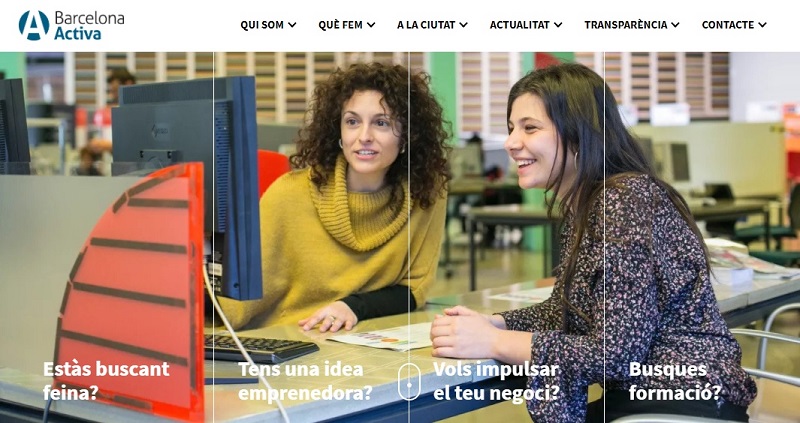 Barcelona Activa launches its new website
The design is modern and clear, and contents are designed to the needs of the users
Barcelona, 11 Nov 2020
Barcelona Activa launches a new website with an innovative, attractive, and simple layout. It adapts to every device, and above all, it is designed to answer the needs of the users.
On the homepage and at first glance, users can choose between four questions from which they can easily find the service that they are looking for: Are you looking for a job? Have you got a business idea? Do you want to boost your business? Are you looking for training? Whatever the enquiry, the effective website navigation allows the user to easily find the appropriate solution.
The website includes a new map that features more than 50 points where Barcelona Activa offers its services in the city, which consist of job search services, entrepreneurship, boosting businesses and training courses.
In fact, all of the training courses that Barcelona Activa can offer people can now be found in detail all on one page. It is organised according to the need of the user and the format – face-to-face, online or even streaming via the Virtual Room. Additionally, Barcelona launches the activities schedule, which compiles all the events and training activities by topic and date.
Another relevant feature is the new Barcelona Treball landing page, whose simple layout allows for more direct access to all the services and resources for job searching and professional development that Barcelona Activa has to offer the public.
In addition, the website incorporates a newsroom with up-to-date news about Barcelona Activa's services and programmes, and a section for journalists with the latest corporate press releases and photographs of the facilities. At the same time, it has a large catalogue of publications to know more about the reality of the labour market, the entrepreneurial ecosystem, business innovation and activity in Barcelona Activa.
A new website with the same address: www.barcelonactiva.cat
Discover the creation process of the website: