null
II Congrés de Competències Digitals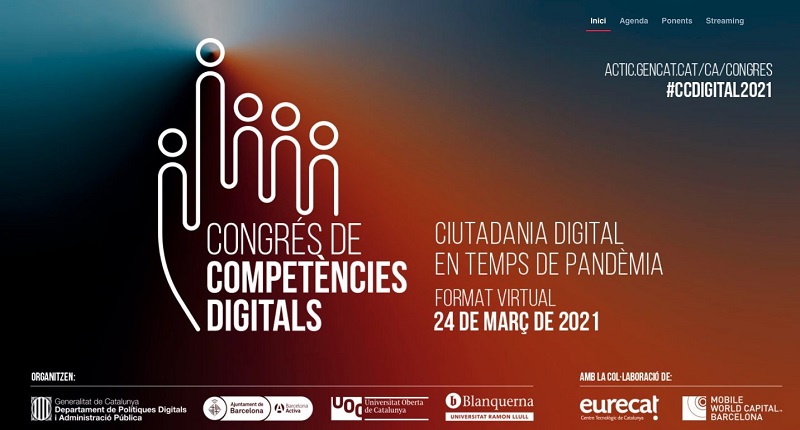 The 2nd Digital Skills Congress analyses the 'digital citizenship in times of pandemic'
The conference highlighted the importance of digital skills in the new post-pandemic scenario with experts from the sector
Barcelona, 25 Mar 2021
The second edition of the  Digital Skills Congress, organised on 24th March by Barcelona Activa, the Department of Digital Policies and Public Administration of the Generalitat, the Open University of Catalonia and the University Blanquerna, this year with the slogan of 'Digital citizenship in times of pandemic', was divided into three thematic blocks with debates and presentations by experts from the digital world, which allowed discussion and reflection on aspects related to digital skills, the digital divide, inequalities, well-being and digital security.
The aim of the event was to promote the active participation of citizens in the digital society, discussing the necessary skills and abilities in the current context of pandemic and the power of technology in social activities and interactions. As the Managing Director of Barcelona Activa, Felix Ortega, pointed out at the beginning of the congress, this virtual year, "we have to empower the citizenship in digital matters and build a society with equal opportunities and capable of generating social progress."
The conference, which lasted from 9 am to 6 pm, put on the table the role that technology plays in society while living with the health crisis. It also focused on the strategies and future lines that need to be worked on to reactivate the economic and social ecosystems and ended up with several workshops on the use of technology from different perspectives.
A full day that highlighted a concern that needs to be worked on, the lack of awareness of users of their individual responsibilities to the new paradigm of digitalisation. According to Liliana Arroyo, PhD in Sociology and researcher at ESADE, a digital citizen should have the ability to "consume and produce content at the same time, critically and consciously."
The director of Training and Innovation at Barcelona Activa, Sara Diaz Roig, also recalled that: "Digital citizens should be active, critical and responsible people. In short, they should know how to communicate, work, study, create and apply solutions ".
From Barcelona Activa we want everyone to be able to develop the digital skills needed to improve their business or projects. Through the Cibernàrium, we offer technological training courses and workshops for professionals and companies, as well as activities of internet for beginners for all the citizens.