null
Barcelona Activa boosts the SDGs in the BforPlanet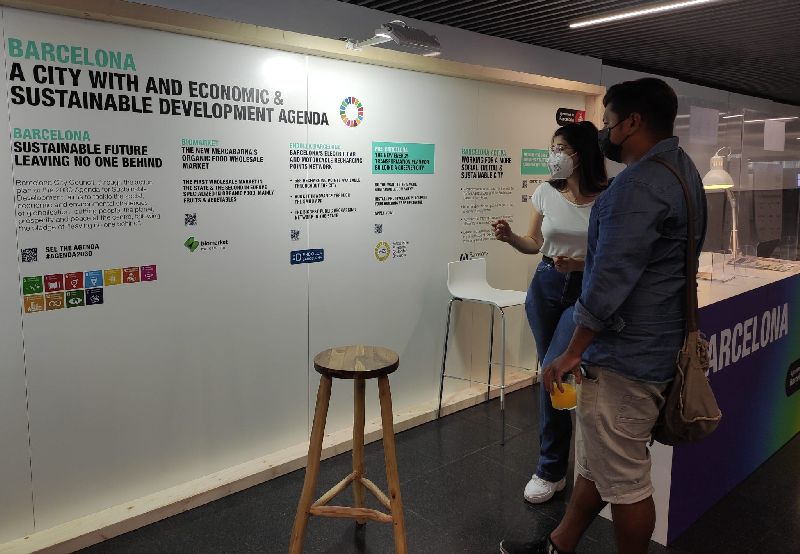 Barcelona Activa boosts the SDGs in the BforPlanet
The agency has presented the municipal measures linked to the Sustainable Development Goals in the first trade fair focused on sustainability
Barcelona, 09 Jul 2021
Barcelona Activa formed part of the congress on sustainability BforPlanet and presented services and programmes that promote the sustainability, competitiveness and equity of the city. The agency also presented the Barcelona Green Deal, the roadmap that sets out the urban agenda for the next decade (2030 Agenda).

The event, organised by Fira Barcelona in collaboration with Barcelona City Council, aims to promote the implementation of the Sustainable Development Goals in the business world. The event brought together more than 70 experts and more than 40 companies such as Amazon, Coca-Cola, Aigües de Barcelona, Danone and Unilever.

Within the framework of the fair, Barcelona Activa promoted different municipal projects such as Endolla Barcelona ("Get plugged in Barcelona") the largest public recharging network in the state, with 555 electric recharging points. It also promoted the Biomarket, the first wholesale market in Spain and specialising in organic and sustainable food located in Mercabarna, and Més Barcelona, an initiative for installing photovoltaic panels on buildings free of charge.
Barcelona Activa also participated in talks related to the 2030 Agenda to build a greener and more equitable Barcelona. On the one hand, an Inspiration Talk was held in which the third Deputy Mayor of Barcelona City Council, Laia Bonet, presented the key concepts for the ecological and digital transition.

On the other hand, a session focused on the blue economy, 'Living with the Oceans and From the Oceans', counted on the participation of Anna Majó, Operational Director of Business Innovation Projects at Barcelona Activa. Finally, Barcelona Activa was part of the event 'Gender Equality: a Must-Have for Economic Growth', which reflected on measures to achieve gender equality and accelerate economic growth with the presence of Alícia Egea, Director of organisational development and quality of the agency.

During the event, other initiatives were also presented such as the revitalisation of the Bon Pastor industrial estate, a firm commitment towards the Social and Solidarity Economy, and the 'Sectoral Reskilling' programmes, which allow specialising in key sectors for the future of the planet such as the green and blue economy.

The first edition of the BforPlanet fair has become a space to discuss global challenges in terms of sustainability and reflect on how to drive economic recovery based on the respect for the environment.